2016 Election News
Sep 26, 2015. Sanders rules New Hampshire
The latest poll by WMUR/CNN shows Bernie Sanders from neighboring Vermont with a decisive lead among Democratic voters in New Hampshire. To the question, "Who would you vote for today?" Sanders got 46%, Clinton 30%, and Biden 14%.
Sep 23, 2015. Biden up, Hillary down
A new nationwide Bloomberg poll of Democrat voter preferences shows the not-yet-running VP Joe Biden closing quickly on Hillary Clinton, who continues to lose voter support.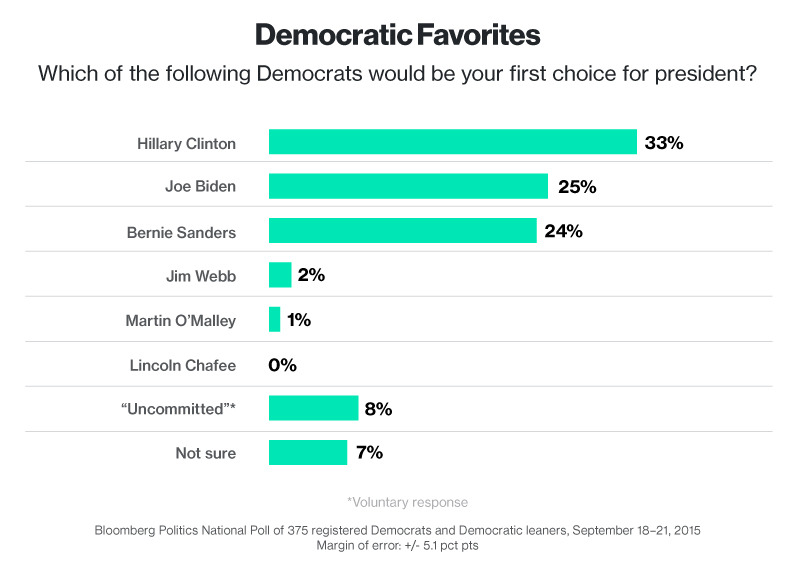 Sep 19, 2015. Fiorina wows NH Republicans
A flash poll by "Votergravity" among New Hampshire Republicans following the second Rep. candidate debate, shows voter support shifting to Carly Fiorina, who led the poll with 22%, followed by Trump 18% and Carson 10%. The career politicians followed, with Kasich and Bush at 9%, Rubio at 7%, and Cruz and Christie at 6%. Jindal, Graham, Santorum, Pataki, and Gilmore were last with 1% or less, and are (we can hope) reviewing their participation in the campaign.
Sep 15, 2015. Latest WP-ABC poll:
Hillary's base collapsing
9/10/15 ‐ The latest Washington Post-ABC News poll of Democratic voters shows that Hillary Clinton's support among Democratic women, her strongest base, has fallen from 71% to 42% in the past eight weeks. Among white Dem. women, her support is a mere 37%, while she still holds a majority at 60% among non-white Dem. women.
NYTimes:
Clinton received TOP SECRET emails on home server
The NYTimes reports that just-published reviews by the National Geospatial Intelligence Agency and by CIA have concluded that at least two emails received by Hillary on her home acount were "Top Secret". It can be assumed that her home email account was routinely tapped (hacked), and that the Top Secret material fell into the hands of foreign agents.
Latest poll: Not trusting Hillary
This week's nationwide Quinnipiac University poll (PDF) of eligible voters shows Biden with a greater advantage over the main Republican rivals than Hillary Clinton, as well as further slippage in voters' trust in Clinton.
The poll posed hypothetical matchups between the Democrats Sanders, Clinton, or Biden against the Republicans Trump, Bush, or Rubio. Among the nine posed matchups, the Democrats would now win eight.

Sanders would beat Bush by 4% and Trump by 3%, but would lose to Rubio by 1%.
Clinton would edge Bush by 2%, beat Trump by 4%, and squeeze by Rubio by 1%.
Biden would beat Bush by 6%, Trump by 8%, and Rubio by 3%.
So as it stands, Biden would do better than either Clinton or Sanders against any of these three Republicans.

To the question, "Would you say that [candidate] is honest and trustworthy?" – asked about six candidates of both parties, four candidates (including Biden and Sanders) elicited a majority of positive responses, while Clinton led the negative responses with 61% "no", and Trump elicited 54% "no" replies.

To the question, "Would you say that [candidate] cares about the needs and problems of people like you?" asked about the same six politicians, four elicited positive responses, while only Clinton (51% "no") and Trump (60% "no") elicited negative majorities.

In an unprompted word association question, the words most often immediately associated with Hillary were 1. "liar", 2. dishonest, and 3. untrustworthy. Most frequently associated with Donald Trump were arrogant, blowhard, and idiot. So it could be an interesting election.

Interesting election footnote:

The Washington Post reported on August 5 that Bill Clinton had a phone call with Donald Trump a couple of weeks before Trump's declaration as a presidential candidate. Aides to both men say that the former president urged Trump to get more involved in politics, and that Trump's ideas could be a valuable addition to the Republican party's discourse. No one says Mr.Clinton urged Trump to run, but he knew Trump was near the moment of decision. Was Clinton sowing the seeds of tumult in the Republican camp? Setting up a perfect foil for his wife's barbs? Dangerous sport, exchanging barbs with Trump.